Car body repairs come in all shapes and sizes. While some repairs are repairable at home with do it yourself kit, others will need professional work in order to restore the area to its original state. After some potential trial and errors with one of many home kits, the next options would be a car body repair expert, but who? Operating in and across Dublin, ChipsAway Ireland may be the solution you've been looking for.
Read on to understand what our professional services include and why we could be the best option for you.
What Services do we Offer?
Understanding the services available by our qualified technicians will help determine whether your dent is repairable. At ChipsAway Ireland we offer the following services:
Paintwork Scratches
Minor Dents
Alloy Wheel Repair
Bumper Scuffs
Since all damage varies the cost of each repair will too. Our repair services section as lots of information outlining more, helping you to understand the processes in more detail.
ChipsAway Repair Process
Repairing car bodywork using our SMART technology has never been simpler. SMART or small to medium area repair technology – is used to repair small areas of the cars bodywork without impacting the rest of the vehicle. Essentially we pair this technique with our professional colour matching function which is another key element in our repair process. By matching the paint with the manufacturer's original code specification, we can reduce the area we repaint to just the affected area rather than the whole panel. By using this method we are able to offer a cheaper and faster service than traditional car repairs.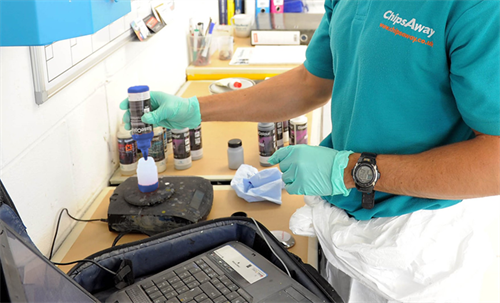 Where do we Work?
Unlike other body work repair specialists, we are able to provide our services at our centres or on the go. While our technicians are based in North Dublin and South Dublin, we are able to offer mobile repairs at a time and location to suit you.
Long Term Benefits of ChipsAway Repairs
Unlike home kits or other quick fixes, all jobs conducted by our technicians are covered by a life time guarantee giving motorist's peace of mind. This means that, even if repairing the damage isn't a priority at first, once we have carried out the work you will then be covered if the repair was ever reversed over time. Due to our confidence in the quality of our service we are able to fully guarantee lifelong protection.
ChipsAway Pricing
Like all of our repairs, our experienced technicians work on a car by car basis. This is to ensure the cost of the repair reflects the size of the damage, rather than using a one size fits all approach. Therefore the cost of the repair is dependent on a number of elements like; size, depth, area (does the scratch span over one or two panels) and how affected the paint is.
Want a Quote for a Minor Car Body Repair?
At ChipsAway Ireland our enquiry form allows you to receive a personal quote that correlates with the type of damage your car has sustained. Upon completion, our two-step enquiry form is sent directly to a ChipsAway technician local to your area within Dublin.
They will then contact you to schedule a face to face inspection to view the damage before giving you a free, no obligation estimate. After assessing the damage, our technicians will book you in at our Castleknock or Sandyford repair centres or will arrange a mobile visit to suit you.