"How much will this cost to repair?" is the question many of us ask after sustaining unwanted damage to our cars. Whether it is a small dent or large scratch, any unexpected damage is a cost that we all want to avoid. In the instance where you require car body repairs, getting the work completed quickly and for a reasonable price is important.
Due to the nature of the work, there is no set price to fix your repair. Although that may make it a little harder to weigh up the costs initially, it does mean that our technicians can quote you personally based on the specific damage to your vehicle.
Our handy enquiry form is sent straight to our Car Care Center in the Dublin area, who will then get in touch to arrange pictures in order to view the damage before giving you a free, no obligation estimate. Our Customer Care Specialist will then contact you to talk you through the estimate in detail in order that you may fully understand the work to be done.
We have listed the key factors that are likely to affect the price of a ChipsAway Ireland repair. This should help explain why some repairs are less straightforward than others.
Car Scratch Repair Costs
Top considerations that affect complexity and price:
Scratch Size
Position
Number of damaged panels
Type of paint finish
Depth of scratch
The cost is determined by many factors, with the main one being the size of the damage. This can be caused by loose road surfaces, small dinks in parking lots or other wear and tear. If the damage is minimal (resides on one panel) this could be simpler to fix, however would need to be assessed on visit.
A secondary factor to consider is the depth of the scratch. If in the process of acquiring the scratch multiple layers of paint have been removed, our technicians would have to sand away more paint to restore the area to the same standard. A job like this requires more time and skill than a shallow scratch in your paintwork.
A third factor to note is, while we are specialists in matching and mixing paint, there is more work involved in blending paint over multiple panels than required on one. Again, the type of paint finish is also a consideration. With metallic or matt paint, the application technique will vary.
Alloy Wheel Repair Costs
Key factors that could affect the repair:
Wheel size
Damage type
Wheel finish/ Logo badges
Like other aesthetic repairs, the extent and form of alloy wheel damage all impact price, with the biggest, most demanding repairs being the most time consuming. To note, if your logo badges or emblems are scuffed, you can purchase them online prior to your appointment and can then be fitted by the technician at no additional cost.
Dent Repair Pricing
Key cost indicators to consider:
Size
Location
Paint damage
ChipsAway Ireland technicians are equipped to fix minor dents. This includes shopping trolley knocks or a small dint from collisions with bollards, posts, gates etc. If your vehicle has sustained damage of this type, dent removal can be conducted at a time and place suitable to you.
Some dents are repairable with minimal repairs needed to the paint. While dents with vast paint damage take longer to repair, which affects the price.
Bumper repair costs
ChipsAway Ireland technicians are able to complete a certain amount of bumper repairs. However, some issues that will make the repair more complex are:
Is the surface scratched or the whole bumper is cracked
Textured vs. painted
Having a bumper repaired instead of replaced is guaranteed to save you money overall. Our professionals can meticulously repair most types of damage; however depending on if the bumper is simply scratched or cracked will influence the technique used to rectify the area.
Likewise, the cost can be affected depending on the necessary paint repair needed. Some cases require a straightforward colour match and respray, while other bumpers may have a textured finish that our technicians will also need to match.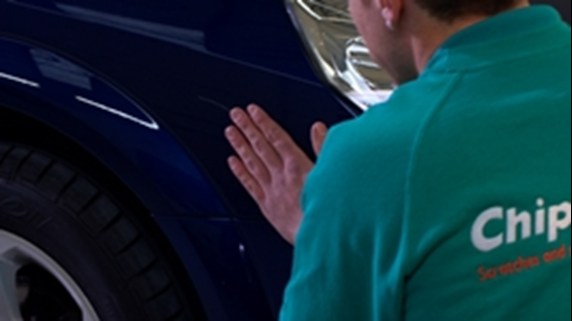 Complete an enquiry form or call us today!
At ChipsAway Ireland, we are committed to providing high quality, affordable and most importantly convenient repairs. To simplify the process, complete an enquiry form for a fast, free estimate that will rectify the damage with a professional finish.