Damaged wheels can be a devastating thing. Alloy rims can be a beautiful addition to any car. They can help transform a car or keep it looking brand new – yet it is inevitable. Occasionally, they will get scratched or damaged, dented or scraped, and when they do you need to know how to get the damage repaired. Ultimately, damaged wheels are not only unsightly, but they also reduce the value of your car for resale. It is for this reason that wheel refurbishment is a must.
Through the course of this article we're going to take you through the details of wheel refurbishment, including what it is, why you would need it, how you can attempt to repair it at home, as well as how ChipsAway professionals can help to ensure a flawless finish.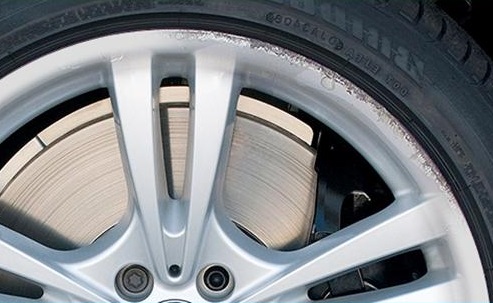 What is Wheel Refurbishment?
Car wheel refurbishment focuses removing physical damage from the alloy wheels or hub caps. Traditionally speaking, wheel refurbishment doesn't tend to affect the tires – instead focusing purely on the actual repair of the alloy part of the wheel itself.
Wheel refurbishment can repair any type of damage to the wheel, from scratches to dents and dings. It can be used to remove any sort of blemish, to help improve both the aesthetic to the car and the car value.
Alloy wheels are a fantastic car accessory, giving cars a new breath of life; however, they can get easily damaged. When that happens, there are home alloy wheel repair kits that can be used for very minor damage. That being said, in reality, the damaged rim will probably need the attention of a qualified wheel refurbishment specialist to ensure the best possible quality of finish.
Repairing Wheel Damage
There are a couple of realistic ways of repairing wheel damage. Firstly, there are alloy wheel repair kits, that do have limited success. Secondly, there is the processional method.
Using an Alloy Wheel Refurbishment Kit
Alloy wheel repair kits tend to come with a whole series of components inside. It goes without saying that the exact components vary by kit; however, generally speaking you can expect to find:
Sandpaper
Filler
Primer
Lacquer
Gloves
Tools to apply the filler, primer, and lacquer.
Each kit will also have its own instructions, and it is incredibly important to read those very carefully. Generally speaking, however, the process is a simple step by step series of tasks that result in a good looking wheel at the end. This includes:
Cleaning the wheel (thoroughly) to get rid of any dirt or grime.
Sanding down the relevant area.
Cleaning it a second time.
Filling the damaged area with the filler. This is usually a fairly fast drying putty, but again it can vary depending on the precise kit. It needs to dry before moving on.
Once again, the area is sanded down to remove the additional filler.
The area is then wiped down to remove dust, and the area that now needs painting needs to be masked off.
Only now does the paint get applied. It can be difficult to get an even coat with the painting so it is important to ensure spray paint is well shaken before use, and that paint is applied evenly. Apply the paint in thin layers to ensure an even coverage.
Allow the paint to dry completely before applying lacquer.
The process is relatively simple (and we have a more detailed breakdown of the process here); however, there are a few notable downsides to using a DIY wheel refurbishment kit. These can be summarised simply in the quality of the finish.
With professional alloy wheel repair or wheel refurbishment you can guarantee a certain quality of finish. Doing it yourself means a couple of things.
Firstly, even with the best possible finish, and even with the largest amount of possible care put into it, the damage will still be visible close up. Applying the filler and paint yourself results in an okay finish from a distance, but it rarely stands up to close inspection.
Secondly, it is next to impossible to get an exact colour match with a store bought alloy wheel refurbishment kit. This means it is possible for the finished and filled in scratch to stand out because of the applied cover doesn't quite match.
In order to avoid both of those issues, it is best to opt for professional wheel refurbishment.

Professional Repair and Wheel Refurbishment
One way to ensure that you get a flawless finish, one without streaks, smears, or blotchy paintwork, is to get your alloys repaired by a professional.
Professional alloy wheel repair comes with a few large bonuses that aren't necessarily covered when you refurbish your wheel at home. Firstly, and foremost, professionals are more likely to have more efficient tools. Where it is all well and good repairing an alloy wheel by using a paintbrush or spray can, there are more precise tools that can be used to provide a far more even finish.
Of course, that isn't the only benefit to having the wheel repaired professional. Where the main process is very similar, professionals are able to create a precise colour match for the car, meaning that it will provide a flawless finish.
Aside from the colour match and quality of finish being of a higher quality (which is exactly what you would expect when paying for a professional service), the professional service comes with lacquer as standard, as well as a gloss finish. After that the paintwork is cured and polished.
What this does is leave a superior shine on the alloy wheel, completely repairing any damage that had been incurred.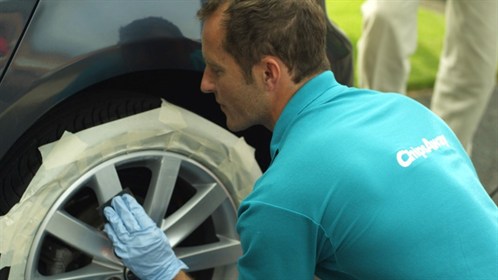 How Much Does Alloy Wheel Refurbishment Cost?
The cost of an alloy wheel refurbishment depends wholly on the work being carried out. A minor scratch will almost certainly cost less than if the wheel is badly damaged.
ChipsAway Wheel Refurbishment
Here at ChipsAway Ireland, we are experts in alloy wheel repairs and wheel refurbishment. We use a unique method that is guaranteed to provide an excellent finish every single time. Our method consistently finishes alloy wheels with an incredibly high quality colour match and smooth exterior.
If you have an alloy wheel you would like repairing, please do not hesitate to contact us. You can request a free, obligation free quote today by either calling us or contacting us online today.