Finding a scratch in your car paintwork can be really frustrating. They look unsightly and can even harm the resale value of your car.
The problem is that modern cars are generally getting bigger and wider, but roads and car parks aren't keeping up. Tight parking spaces, narrow driveways and overgrown trees at the side of the road can all mark your paintwork with a nasty scratch.
If you've found a scratch or bumper scuff on your car, you're probably wondering how to get it fixed. Traditional panel resprays are very expensive and time-consuming, but there is another way: SMART repair.
What is SMART scratch repair?
SMART stands for Small to Medium Area Repair Technology and it's a method of repairing small areas of car bodywork damage such as car scratches, paint chips and minor dents.
Traditional bodyshop repairs usually involve respraying the entire panel, which isn't usually an affordable option. SMART techniques only repair the area of damage, blending the repair into the surrounding paintwork. This makes the repair much quicker, easier and cheaper to carry out.
ChipsAway pioneered SMART repair in the UK 20 years ago, and is now bringing the technology to Ireland.
Will the paint colour match?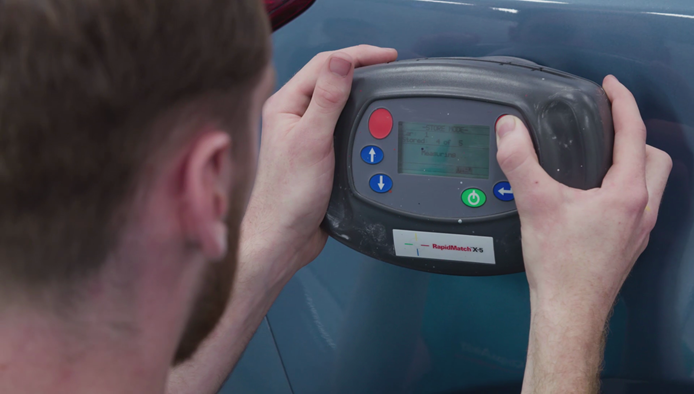 Yes, the scratch repair will replicate the paint colour and finish of your car. ChipsAway use colour-matching technology to carry out a repair that blends into the existing paintwork.
We start with the manufacturer's specific colour code for your car and then use our spectrophotometer machine to scan the paint and identify the exact tone. We can then replicate this colour with our specialist range of tints.
Will the damage still be visible?
No, you shouldn't be able to see the damage once the car has been repaired, even close up! We aim to get your car's paintwork looking as good as new.
Where will the repair be carried out?
At ChipsAway Ireland, we offer a mobile car paint repair service across Dublin and the surrounding areas. We also have two repair centres: North Dublin in Castleknock and South Dublin in Sandyford.
Our scratch repair process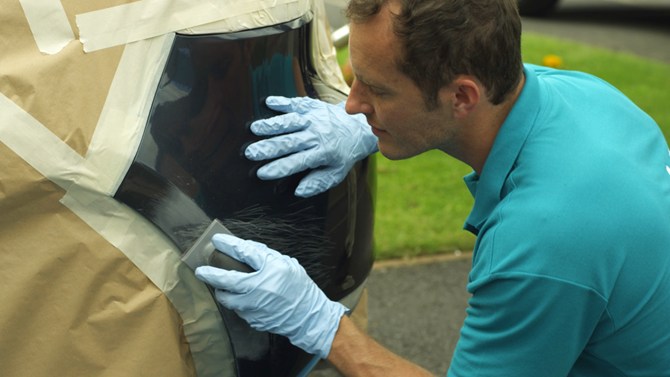 Here's a step-by-step guide to what to expect from our professional scratch repair.
The specialist will first thoroughly clean and dry the area to remove any dirt or wax that may interfere with the repair
They will then carefully mask off neighbouring panels and any details like lights, badges and moulding to protect them from paint spray
They will sand back the damaged area – we work to rebuild the colour layer by layer, as the manufacturer does, for a high quality finish
Then they will prime any deep scratches with a grey base and cure this with an infrared lamp
Now for the repainting. The repair specialist will apply the paint in thin layers with a spray gun, heating it to dry it fully between each application
To finish, they will cure the entire area with an infrared lamp
Once this is cool, the specialist will remove any remaining paint nibs or tiny imperfections with extremely fine grain paper
Finally, they will polish and buff the panel to restore the shine and finish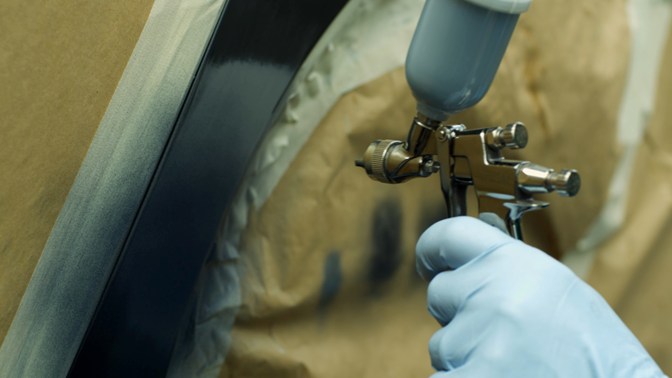 How do I look after the car repair?
The car will be absolutely fine to drive immediately after the repair, even if it's raining. In fact, it won't need any special attention but we do advise you not to wash, scrub or buff the panel for five days following the repair.
How much does scratch repair cost?
The cost of a scratch repair depends on a lot of factors. We take into account the size, depth and location of the damage, as well as the car's paint finish. For an accurate price, please get in touch with our specialists for your free, no-obligation repair estimate.
And remember that our minor bodywork repairs are usually cheaper than your car insurance excess, meaning you don't need to make a claim. Plus, all our car bodywork repairs come with a lifetime guarantee.
Book your scratch repair today
Book your professional car scratch repair with ChipsAway Ireland and get your paintwork looking as good as new. Our repairs usually only take a few hours to complete, so you'll have your car back in no time.
Fill in our online form to request your free repair estimate and our specialists will be in touch.