Routine maintenance to your vehicle often includes regular cleaning, waxing and sometimes light aesthetic repairs. That is why after experiencing minor bumps and scrapes, you may require our alloy wheel repair service, designed to treat minor wheel damage.
While most motorists require this service when looking to sell or part-exchange their vehicle, others utilise this service when trying to maintain the overall condition of their vehicle.  Whichever category you fall into, professional alloy wheel repair services are a cost effective way of eliminating the need to fork out for brand new alloys.
To inquire about our alloy wheel repair service read more here.
What is our Alloy Wheel Repair Process?
1. We start by fully cleaning the alloy to remove all traces of dirt and debris. By doing this expose all the scratches and dents to be repaired.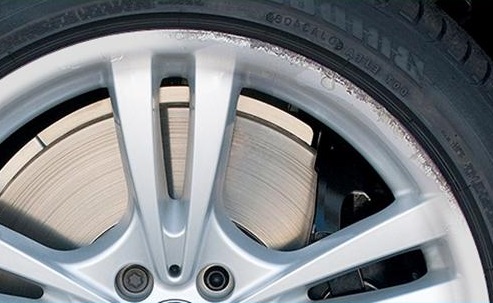 A clean wheel highlights the full extent of the damage
2. Next, we cautiously dry the alloy wheel and mask off the tyre to protect it throughout the repair stage.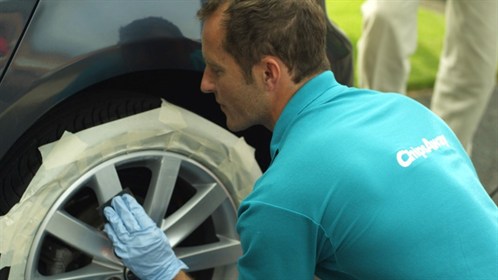 Carefully sanding down the damaged area with light pressure
3. After this, we gently sand the damaged area before applying fillers to the abrasions. After the technician cures the alloy, they sand down the old paint ready for primer and paint application.
4. The technician will then colour match the alloy wheel with the correct paint. They can now spray the paint over the damaged area and blended into the original wheel colour.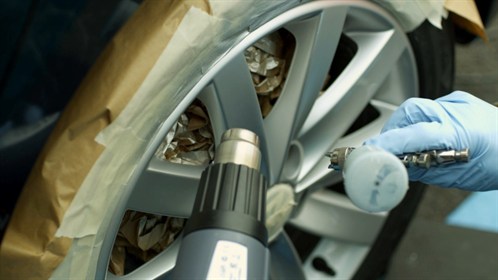 A ChipsAway technician completing the alloy finish
5. Once complete, the alloy paint is coated with lacquer to a high-gloss finish before being cured and finally polished.
How Much is Alloy Wheel Repair?
The cost of our alloy wheel repair varies from car to car based on the level of damage. In spite of this, ChipsAway technicians will always offer their customers the greatest level of expert advice combined with the most beneficial solution for your repair.
All of our work is carried out to an outstanding standard to guarantee a professional-looking finish. We work tirelessly to ensure that your vehicle's exterior remains in great condition, and preserves its overall resale value.
If your alloy wheels require attention, or you would like to know the cost for this service, do not hesitate to fill out the form to promptly receive a call from your local ChipsAway specialist.